How to Set Up LeagueSpot's AutoMatcher for Leaderboard Events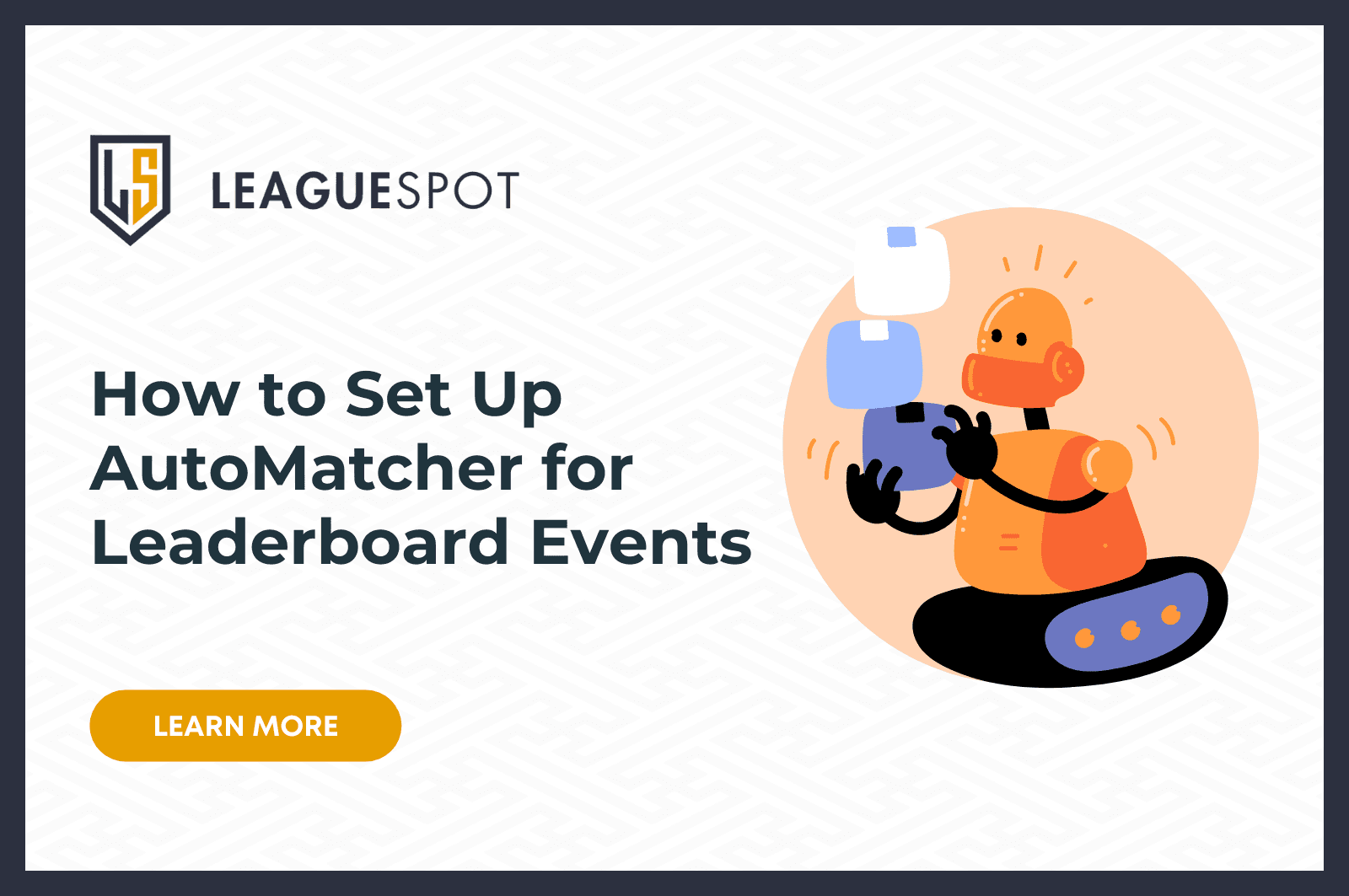 LeagueSpot's AutoMatcher is the secret sauce to lowering forfeit rates and increasing playtime! In this guide, we teach our league hosts how to set-up AutoMatcher for their next Leaderboard event.

How to Set Up LeagueSpot's AutoMatcher for Leaderboard Events
Review your Approved Game Titles to ensure the game you'd like is enabled for your league.

Visit your League Settings by selecting the hamburger menu and opening the sidebar.

Next, select Approved Game Titles from the dropdown menu.

Add the game titles you'd like to host as Leaderboard events

Battle royale titles such as Fortnite, Apex Legends, and Call of Duty: Warzone are some of the most popular titles using our LeagueSpot Leaderboards.

We can set up any game title as a Leaderboard format for you, which can also function attendance sheets by adjusting your season's points settings!

Reminder, game titles cannot immediately be removed if you add them to your League.
Create Your Seasons and Stages
Return to your League home and select + Create Season

Complete the season details and select your desired Leaderboard title (e.g. Fortnite Battle Royale, Apex Legends Battle Royale, etc)

Select Add Stage

Add your Stage Name

Select Leaderboard AutoMatcher as your Stage Type

Complete the rest of the Stage details:

Number of rounds

Attendance Window (in minutes) - how long before each match do you want the queue to be open for teams to join?

Number of matches per round

Mark the box if you would like rounds to start automatically at the designated match time. This will assign all teams who have joined in the attendance window at the scheduled time!

Timing mode: if you want to manually schedule your rounds, or automatically schedule rounds weekly.

Stage Description

Whether you will automatically or manually advance teams to participate.

Number of hours before matches you want to lock team rosters (optional)


After your season is created, open the season to add a stage
After a stage is created, you can keep inviting teams to join the season. When you want to close registration, lock in your teams from the season page and select "Start Stage"
Lastly, you can edit your round start dates and times by selecting the Pencil icon next to the round number
Customizing Play with AutoMatcher for Leaderboard
There are many ways you can tailor-fit your league events to create more opportunities without adding more work onto your plate. By hosting your events on League spot, you can:

Enable and disable auto-start for each round individually, allowing you to change your mind at any time.

Add late teams after starting the season, giving you a solution that scales without delaying when your first matches begin.

Host multiple seasons at once, any game titles, times and formats! Tack on scheduled auto-start and you can now support different groups simultaneously and still get their matches started at the exact time you need.
Get to know more about AutoMatcher for Leaderboard and more in our latest LeagueSpot Live Release Notes!
Let us know how we can help you get your next event started! Whether you're an existing league setting up another batch of seasons, or new and interested in kick starting your first gaming activation with LeagueSpot, we are here to connect! Schedule a call or join our Discord and get in touch with a member of the LeagueSpot team.