Beginner's Game Guide - Super Smash Bros. Ultimate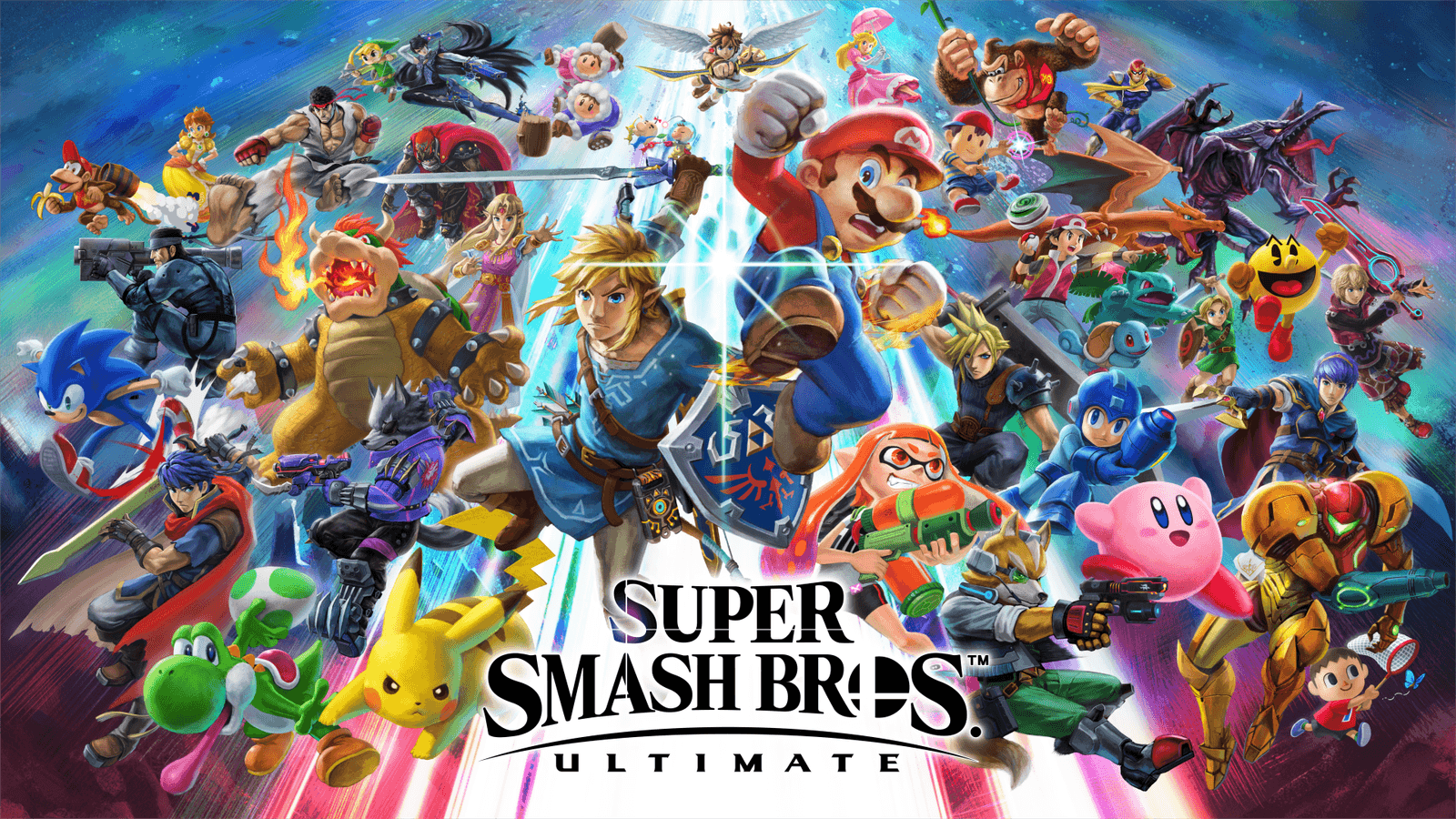 Super Smash Bros. Ultimate is a 2018 crossover fighting game, featuring a wide variety of game modes, including a single-player campaign and multiplayer versus mode. This is the fifth installment of the Super Smash Bros. series, succeeding the 2014 release of Super Smash Bros. for Nintendo 3DS and Wii U. There are many in-game goals, like unlocking playable characters called Fighters, unlocking in-game collectables, and climbing the ranks of online competitive play.
Developer Information
Developed by Bandai Namco Studios and Sora Ltd.; Published by Nintendo
Primary Platforms
Exclusive to the Nintendo Switch
Accessing the Game
To play Super Smash Bros. Ultimate, you must own a Nintendo Switch, the game, and a subscription to Nintendo Online if you choose to play multiplayer via the internet. This game is rated E 10+ for everyone over the age of 10 years.

Many elements of Super Smash Bros. are similar throughout each game. Ultimate brings in some fresh fighters, new stages, and remixed game modes to bring a new and exciting feel to the series. Outside of all of the offline content, online multiplayer has been refreshed to give players a competitive feel to a family friendly title.

You start with 8 unlocked fighters when you first load the game. This game brings the challenge of you, the player, to play and unlock the rest of the non-downloadable content characters. In total, there's 69 fighters that come with the base game and an additional 12 that are available for purchase on the Nintendo Switch "eshop" - a virtual marketplace for all games and applications on the Nintendo Switch.

Unlike with Fighters, and having to unlock the entire non-downloadable content characters through playing the game, all 103 non-downloadable content stages are available from the start. There's a multitude of different stages across different franchises, which makes the game so unique. Here's a list of the different types of the stages you can find in Ultimate:
• Regular Stage - Also called a level, map, arena, stadium, or board, is a location in which characters fight or complete objectives.
• Stage Hazards - Any aspect of a stage which could pose a threat to players. Most stage hazards deal damage and knockback, while the remainder includes a wide range of effects, such as sudden movements of the stage or a panning camera that can knock a player off the stage.
• Battlefield - Alternate versions of stages which modify them to have a layout that matches Battlefield in size and shape, consisting of a single flat hard platform with three soft platforms in a triangle formation floating above it.
• Omega (Ω) - Omega form, also known as Final Destination form, are alternate versions of stages which have a Final Destination-like layout, consisting of a single flat platform with all stage hazards removed.

Items either randomly appear on-stage during a match or are summoned by a character's special move that can be picked up and used by characters. Items are a large part of the gameplay of the Super Smash Bros. series, particularly on a casual level where chaotic fun is prioritized over serious competition. However, items cause problems at a competitive level and, with some exceptions, are universally banned from tournaments.
One of the many additional unlockable objectives in the game, spirits are game characters throughout 48 different franchises and categories with abilities that can give your Fighters an extra boost in battle. There's a special game mode with different challenges to unlock them. Within the spirits, there are two kinds: primary spirits and support spirits.
• Primary spirits are equippable one per Fighter to enhance its strength. Depending on the spirit you use, your Fighter can become very powerful.
• Support spirits, depending on how many in-game slots the primary spirit takes, can be multiple per character. These are protective spirits that give your Fighters special abilities.

Super Smash Bros. is still a fighting game at the end of the day, but there's also additional modes that give players extra content if they ever seemingly get bored with regular fights.
Game Mode Examples:
• Classic Mode - Retro styled 1v1 versus computer Fighters, mimicked after the original Super Smash Bros for the Nintendo 64
• Mob Smash - Fight an entire army of enemies
• Home-Run Contest - Launch a sandbag into the air and see how far it flies
• Online - Battle against people around the world

While Smash Bros. does not always offer the typical leveling experience that other games have, there is one testament to skill: Global Smash Power.
The Global Smash Power, also known as GSP, is a number that shows how much better you are at a character, game mode, or part of the game than other players in the world. This can be used online when pairing you with an opponent for online play, or if an in-person tournament wants to pre-seed players with someone with a similar skill rating. With online play, a high enough GSP with a certain character will give you access to Elite Smash Battles, which puts you into a separate online matchmaking queue against other high-ranking players.

• Learn how to play Super Smash Bros. Ultimate with Nintendo | LINK
• Patch Notes for official updates on the Super Smash Blog | LINK
• This title is only available on the Nintendo Switch or Switch Lite, for optimal network play, Nintendo Switches should be docked and plugged into ethernet using a USB converter. Local play supports up to 8 players at no additional cost, but Online play also requires an active Nintendo Switch Online account